Here are some of my favorite places and some pictures of me and my kids.

BIG THANKS to RavenMoon for taking the time to do these great scans for me!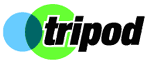 This is the Tripod logo.
The One-minute Page builder makes Web page publishing fast and easy. I can add my own picture and text, plus news, weather, my daily horoscope, and my favorite links!
[an error occurred while processing this directive]
[an error occurred while processing this directive]
[an error occurred while processing this directive]